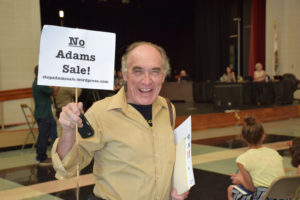 After five months of public debate, the West Contra Costa Unified School District met in closed session to decide the fate of the Adams School site.  Our School Board decided not to "move forward" with the sale of Adams Middle School property to the Caliber Charter School chain, owned by Ron Beller. "Thanks Board members!"
Patrick Duffy, WCCUSD's Superintendent, stated:
The Board provided direction to staff to not move forward with the sale of the Adams property. The District understands its responsibility under Proposition 39 to find a long-term solution to the housing needs of Caliber School. We look forward to reaching out to Caliber and finding a solution that works for both organizations.
In a last minute attempt to court the Union vote, Ron Beller signed an agreement with the Carpenters Local 152 agreeing to use a Carpenter Signatory General Contractor for the construction of a new charter school on the Adams site. Reversing the position taken a month ago, the political organizer for the Carpenters Union, under Ron Beller's watchful eyes and ears, publicly supported the sale of Adams Middle School to Caliber. We should add that the Carpenters Union Local 152 was the only labor organization voicing support for the sale.
We want to express our heartfelt appreciation to the other Unions present who maintained their opposition the the charter expansion. Namely, United Teachers of Richmond (UTR), Public Employees Union Local 1, and the International Federation of Professional and Technical Engineers (IFPTE).  Special thanks to the Vista Hills neighbors, Pastor Brian Adkins from the Open Door Methodist Church,  Richmond City Council member Eduardo Martinez and all the parents and concerned citizens that came together to defend public education. All these individuals, groups and labor unions showed us what it means to work for the common interest. Yesterday we saw democracy at work.
[Video  courtesy of Labor Video Project]