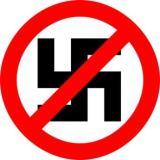 With two Right Wing rallies scheduled for the Bay Area (Saturday August 25, Crissy Field, San Francisco and Sunday, August 26, Berkeley) I would like to we weigh in on the raging national debate:Is it morally justifiable to "punch a Nazi"? I consider anyone displaying a swastika, or doing the Nazi salute, the political equivalent of an Elvis impersonator. Such individuals, however, cannot be dismissed as easily as one would steer clear of a would-be-Elvis. The East Bay Parks District has solved the ethical dilemma: when can you punch a Nazi? The public warning on Mountain Lions issued by the Park District provides  a clear answer. For the word "Lion" I have substituted "Neo Nazi".
SHOULD YOU COME INTO CONTACT WITH A NEO NAZI, FOLLOW THESE SUGGESTIONS:
1.Do not approach the Neo Nazi.
2. Do not run from the Neo Nazi.
3. Face the Neo Nazi, wave your arms slowly and speak in a loud voice.
4. Do not crouch down or bend over.
5. Do all you can to appear larger.
6. Back away slowly, giving the Neo Nazi an opportunity to escape.
7. FIGHT BACK IF ATTACKED.
Do not forget the words of Frank Zappa: "The Meek shall Inherit Nothing."